Departure via Rosyth

This was our last morning in Scotland. Today we slept a little bit longer. Then we had to pack the car not only with our holyday luggage but also with a lot of things left there by Simone from her high school year. When we finished packaging and also the gifts of the White family were stowed in Simone had only a close fitting place at the rear seat (more than a half of the back was laid down). However, after a warm hearted goodbye we started to go back to Germany. A last time we drove along the Ochil Hills and the Firth of Forth to the ferry port of Rosyth. We only took a short break to buy some bottles "Iron Brew" a lemonade with a taste unknown in Germany before we went on board.
Although it was very windy on deck we enjoyed once more the passage below the Railroad Bridge and the slowly voyage down the Forth. In difference to our arrival in Scotland now the weather was very "Scottish". But the view to the coastline was very beautiful because of the fast changing light and the special atmosphere. Beyond Edinburgh we played one game "Scrabble" in the salon (the winner was Simone) and then we took a delicious dinner in the restaurant remembering all the good experiences of this beautiful holyday trip.
The Friday we spent on the autobahn. After a ride across Europe we reached Tabarz, a little village in Thuringia / Germany in the evening. There we stayed overnight and next day the holyday trip ended definitively in Dresden.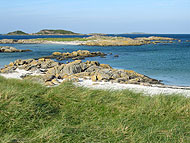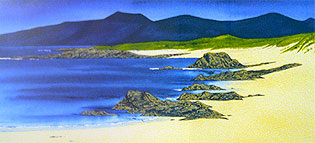 Now three weeks in Scotland are over, rich in adventures and highlights. What remains are a lot of memories and the painting.
By the way, Scotland is the first holyday destination we are traveled to twice. And surely the reason for this fact is not a lack of destinations we are interested on.

Scotland is a class of its own,
the beautiful landscape as well as the historic places.
And last but not least there are living lovely people - the Scots.